Many business professionals like the idea of automating their marketing. But once they start looking, they become overwhelmed with the amount of marketing automation tools available. There are so many options available, and it's not easy to find the tool that will actually benefit you. Furthermore, the price points can become a significant stumbling block for a lot of small, starting businesses.
So while you're interested in trying out some marketing automation, you're not be too sure how it fits in your current operations. Small businesses, for example, may be better off with an a la carte approach, working with a few tools that cover the exact functions they need. In fact, the majority of businesses work best with a blend of both manual and automated marketing. You don't have to plunge into a full suite of marketing automation software – you can start by dipping your toe in to see what works.
But what digital marketing tool should you start with? Do you prioritize budget or ease? We put marketing automation into perspective and bring you a list of the best marketing automation tools.
(Or skip straight to the marketing automation tools below.)
The marketing automation funnel
Marketing automation is broken down into three different levels within a funnel. Each level of the funnel provides a level of automation.
The widest level is the mouth of the funnel. It provides you with the basics of marketing automation, and is the easiest and most affordable way to "feed" your growth. As you become more familiar with automating your marketing, you start to trickle down to the more advanced levels of automation.
Many small businesses think they need coverage at each level of the funnel. In reality, starting at the most basic level might be enough. You have to build your way up – or in this case, down.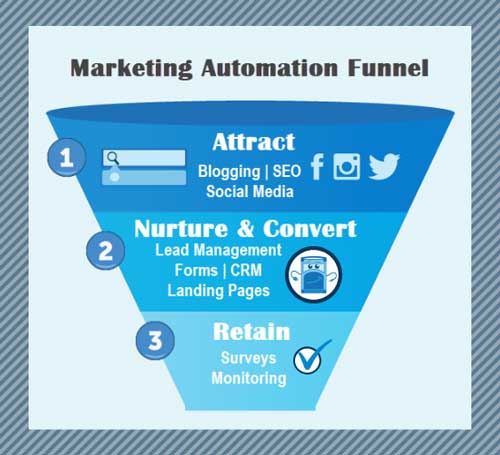 The mouth of the funnel: Attract
The main marketing goal at this level is to attract contacts. With this in mind, some of the largest channels to automate in marketing are email, social media, and blogging. Automating any of these channels can help you easily turn strangers into visitors. These visitors will then turn into leads, and ultimately, customers.
Say, you start blogging in order to provide site visitors with write helpful content about your industry. You then send an email or newsletter to spread the word about your new blog content. And finally, you look to social media to share your blog and newsletter updates, as well as any other campaigns you want to promote. See how this is turning into a cycle?
These three channels, in addition to a strong SEO strategy, will get your website in front of your target market.
The middle of the funnel: Nurture and convert
This is the level where you start looking to expand your market. You may be looking for ways to maximize your list of followers (i.e., on social media, email lists), or to expand your channels of communication into other platforms.
One popular marketing tactic used to nurture leads is to offer them free industry resources, such as ebooks and guides. These not only solidify your expertise in the industry, they can also be a great way to get more information. Consider integrating a sign up form on one of your web pages, which visitors can fill in before downloading the free content. This will help to grow your contact list, all while testing out different forms of content and engagement.
The spout of the funnel: Retain and close the deal
Now that you understand a greater degree of marketing automation, this level is where you start putting this new knowledge to use in converting more people into customers. At this point, you're implementing different ways to keep customers engaged and happy. You are a little more comfortable with new ways of gathering contacts, and understand how to look at analytics that can help future growth.
You may even be sending your customers surveys on what they're interested in, and using that to improve marketing and all other aspects of your business. Congratulations, you've made it to the bottom of the funnel and now have a base of your best customers!
The marketing automation tools
| | | |
| --- | --- | --- |
| Email marketing | Referral software | Social media and reviews |
| Sales automation | Lead management | The all-in-ones |
Okay, by now you're wondering what marketing automation tools make up the Holy Grail and can increase your reach. We're going to focus on marketing automation tools for newbies and small businesses. But that doesn't mean these tools aren't helpful for big businesses or ecommerce sites too.
Listed below (not in any particular order) are over 40 budget-friendly, easy-to-use, and totally worth it tools. They will help any small business improve their leads and free up some time. So, without further ado…
---
Email marketing automation tools
This is an easy way to engage in email marketing. Email marketing automation tools allow you to send your emails to customers at specified times. There are a ton of cloud-based email services out there, here are a few to consider.
---
ConvertKit

"ConvertKit automation allows you to send the perfect sales sequence to each subscriber. It's simple to use, cleanly designed, and very powerful"
ConvertKit uses triggers so that when an event happens it will produce a certain action to occur. The software explains how each step of the automation process should flow. It's a great email automation marketing tool. It includes unlimited: forms, courses, landing pages, automation rules, and emails.
Price: Starts at $29/month
---
MailChimp

"Being yourself makes all the difference"
MailChimp has over 12 million users, making them a top contender for email marketing. MailChimp is primarily thought of as an email marketing automation tool. But that's not all they offer. Some features that push it towards the marketing automation spectrum as well.
MailChimp is compatible with hundreds of apps, making integration easy. This tool offers resources for creating, managing, delivering and sharing everything you need. Some other features include analytics, mobile, templates, segmentation, A/B testing, campaigns. Plus, so much more.
Price: They offer a free plan
---
Constant Contact

"Powerful email marketing, made simple. Create professional emails that bring customers to your door"
Constant Contact provides a powerful and easy to use email marketing automation tool. Constant Contact is simplistic yet customizable. Some great features include customizable templates, contact management, list-building tools. Not to mention tracking and reporting, social media sharing, apps, and integrations.
Price: Starts at $20/month
---
Drip

"Lightweight marketing automation that doesn't suck"
Drip is the lightweight alternative to the bulkier versions of marketing automation. They used a simpler version to craft an easy and cost-effective email marketing automation tool. This tool is great for doing all the marketing jobs, not just email. This easy to use automation software will help any small business increase conversions. Some key features include campaigns, widget, tracking performance. Plus, easy integration, reports, split testing, data exports, and customizable templates.
Price: Starts at $49 a month
---
Mail Up

"Are you ready for a new way of thinking marketing?"
Mail Up allows you to use email and SMS to reach your customers. They give you the tools to create completely automated workflows. Mail Up isn't only geared towards email and SMS message automation. They also help you build customer engagement, generate leads and increase conversions. Some best features are database management, landing pages, API & integrations, filters, customizable.
Price: Starts at $46/month
---
Omnisend

"Evolve to Omnichannel Marketing Automation. All from One Platform."
Omnisend offers omnichannel features built just for eCommerce marketers. Offering sophisticated automation workflows that are surprisingly easy to implement, you can add email, SMS, Facebook Messenger, push notifications, WhatsApp, Viber, and more to the same automation workflow. Handling your communication across several channels, Omnisend lets you bring your marketing operations to one simple dashboard. Omnisend offers a free plan for basic email marketing that allows you to send up to 15,000 emails per month, and their Standard plan including automation starts at just $16 per month. For those who are outgrowing simple email blasts, Omnisend is definitely worth a look.
Price: Starts at $16/month
---
Referral software
Referral marketing software is a marketing platform that automates word of mouth, by incentivizing and streamlining customer sharing.
---
Referral Rock

"Referral marketing software for any business"
Referral Rock provides easy-to-use, automated solutions for both referral marketing and partner and affiliate programs. It helps any business get more customers using the power of their own network. Online and offline businesses can design incentive-based programs. Enroll existing customers and partners into a program. Capture new leads and sales, then issue rewards. This software automates every step of the process. That way the business can scale. Not to mention measure the success of referral marketing programs.
Price: Starts at $150/month
---
Social media management tools
Automate when and what social media platforms your messages are shared on, to help you build brand awareness. You set up your calendar with the things you'd like to share and these software options will take care of the rest.
---
Buffer

"A better way to share on social media"
Buffer is a super easy social media manager for all marketers. Between their browser extension and their drag and drop scheduler… You have an easy way to share content. Plus, you can post to all your social networks by clicking what ones you want your message to go to. Some of Buffer's features include Social Analytics, Calendar, Timing Tool, and Mobile Capability.
Price: They offer a free plan (the first paying plan starts at just $10/month)
---
Spokal

Whether you want to grow your business or if you're a content marketing pro. Spokal gives you the tools you need. Spokal does the busy work for you. So that you have more time creating great content. A few helpful utilities from a huge list are… ROI calculation, rank tracking, keyword recommendations, automatic SEO benefits, image editing, and scheduling.
Price: Starts at $49/month
---
Hootsuite

"Manage all your social media marketing in one place"
Hootsuite allows you to automate your social media messages. You can track and measure analytics. As well as share messages across all your social media profiles. On top of that, you can run campaigns and contests to better engage with fans. Some of their top features include browser extensions, mobile capability, insights, and analytics. Hootsuite also falls into the social listening category, as it lets you track what people are saying about you online.
Price: They offer a free plan (paid plans start at $34.99/month)
---
Meet Edgar

Edgar is the smart scheduler. He will give all your best content it's time to shine. Plus it's said that he never runs out of things to say, so your social media will never go silent. You tell him where you want things posted and he will handle it. He's pretty much your right-hand man in growing your audience. His top features include category-based scheduling, category creation, bulk import.
Price: Starts at $79/month
---
SocialPilot

"Social Media Scheduling & Marketing Tool for Agencies & Social Media Professionals"
SocialPilot can help you in a huge way… with up to 500 posts per 200 social profiles you can create one booming account. So if you run multiple profiles you won't have to worry about capping out at a limit. You can share and schedule all your posts easily with their bulk scheduler. Take a look at their content suggestions or work in a team collaboration. A few favorite features include post scheduling, custom Facebook branding, bulk scheduling, and browser extensions.
Price: They offer a free plan (the first paying option starts at $4.99/month)
---
Brand mention tools
Brand mention tools automatically track and notify you when someone is talking about your brand online, whether it's on social media, in a review, on a blog, or in another medium. That way, you can repurpose positive feedback and other user-generated content, and thank your fans.
And on the flip side, if someone posts negative feedback about you, you'll be able to respond quickly and make things right before it spreads and damages your reputation. This makes brand mention software a valuable tool for finding brand ambassadors and a great reputation management tool.
---
Brand24

"Online reputation management made easy."
Brand24 alerts you to social media and other online mentions of your brand name, relevant keywords, relevant phrases, and hashtags as they happen. The sentiment analysis lets you quickly identify whether each mention is positive or negative. Brand24 also scores the reputation of the user behind each post, so you know which posts are likely to have the biggest impact on your reputation and can act accordingly. Plus, you can reach out to posters directly through Brand24 – especially valuable if you've identified a potential brand ambassador.
Price: Starting at $49/month
---
Awario

"Get usable, real-time social insights."
Awario will alert you to mentions of your brand (and other relevant keywords you choose) right as they happen, tag them as positive or negative, and score them based on the user's reach. Also, if the user is on social media, Awario will show the total number of times they have mentioned your brand. Boolean logic lets you track very specific mentions of a keyword, and negative keywords let you exclude irrelevant mentions. Plus, you can reply to and reshare mentions right from Awario (great for contacting potential ambassadors or reposting your fans' content to your brand's own account). And powerful analytics help you track your reputation based on mentions.
Price: Starting at $29/month
---
Sprout Social

"Build and grow stronger relationships on social."
Sprout Social knows that social media is the consumers' world, and brands are just living in it. Its platform offers real-time brand monitoring to track direct messages and brand mentions, through its Smart Inbox. It also lets you streamline everyday tasks using customizable workflows, saving your team valuable time while optimizing your performance.
Price: Starting at $99/month
---
Review management software
Generating positive reviews, and monitoring your reviews overall, is vital to your business' reputation management. Customers' stellar reviews show that your business is trusted, while negative reviews must be addressed before it's too late. Let's look at some of the top affordable reputation management tools for review management.
---
Grade.us (Reputology)

Grade.us (formerly known as Reputology) tracks all the reviews written about your business and collects them into one place, so your business can easily see what customers love and what it should improve. Sentiment analysis converts review comments into data you can easily act on, and analytics give you the needed insights into KPIs. Grade.us also automates the sending of feedback emails, and routes the right customers to review you: only customers who give positive feedback are routed to your review site, while negative sentiments are sent right to your team. Plus, Grade.us knows how crucial a quick response to reviews can be, so it sends automated notifications whenever it finds a new review, to help your team respond quickly.
Price: Starts at $162/month
---
GatherUp

GatherUp (formerly known as GetFiveStars) lets you encourage customer feedback in over 12 ways, including email and SMS surveys. The surveys will direct only the most satisfied customers to leave reviews, helping you stack the review deck in your favor. Use GatherUp to request reviews on over 100 third-party sites as well as for your own website, and pull the best third-party reviews to display on your site. GatherUp's automated solution "handles the requests, reminders, personalized content and more to engage your customers" in leaving reviews, lets you respond to reviews right from the platform, tracks your reputation through data, and even lets you market top reviews on social.
Price: Starts at $75/month
---
ReviewTrackers

ReviewTrackers automates the asking for reviews, allowing you "to generate new reviews through email campaigns, SMS, on-site kiosks, and customizable landing pages," aimed at your most satisfied customers. Machine learning collects data on the positive and negative keywords customers leave in reviews most often, for actionable insights. The platform also collects review data from 85+ review sites, further helping your brand to make data-driven decisions.
---
Sales automation tools
Need help with automating sales tasks? Or the sales process in general? Then sales automation may be the answer for you.
---
SalesAutopilot

SalesAutopilot covers a little bit of everything. It includes an extensive list of features with little to no cost.
SalesAutopilot has made it simple to install all aspects of email marketing and CRM automation. Here are a few features: Email marketing, integrated email, SMS and direct mail campaigns. There is also lead nurturing, sales process management, and customer targeting. Not to mention, call center integration, built-in CRM, A/B testing. Plus, there is much more.
Price: They offer a free plan (prices are $19/month if you send more than 400 emails)
---
Appy Pie

Appy Pie is a workflow automation software that comes in quite handy for your sales functions.
Appy Pie Connect lets you sync data between various third party apps and automate your sales workflow in the process. For instance, you can tie in the data between apps like SugarCRM and RingCentral so that when you make a new outreach call over RingCentral, details of the conversation are automatically updated in your CRM function.
Price: