Looking to start a referral program for your business? Trying to compare different referral program software isn't easy unless you have the whole blueprint of what each software provides.
You can go through the best free referral software lists or customer review sites. But they still don't provide the information you might be looking for when it comes to referral software. Oftentimes, you'll spend more time trying to figure out if each company can actually provide the services you need.
(Or skip straight to the referral software below.)
Best free referral program software: Our evaluation process
We did some digging and filtered through the essential features to run a successful referral program. We wanted to make this list as short as possible, only bringing you the very best.
The result? All the referral software companies we included in our list had to provide:
Pricing: Being transparent when it comes to pricing should be the norm. We get that some of these referral software companies want to provide custom pricing based on your needs. However, without providing any hint and have you consult with them first to see what the price would be is a no-no for us.
Commitment requirements: Anyone not listing their commitment terms is also removed, we want you to compare the best pricing and the terms to help you understand and calculate your referral program ROI. So we've displayed if they provide only monthly, annually, or both.
Free trial: Providing opportunity and time to test so you can see how everything works is a big deal for us, anyone not providing any free trial won't be on our list, so you can feel free to see what companies will help you test your new referral program, or even change your current platform to a new one.
Minimum of 4.5 star rating: Reviews are important, 66% of consumers said that the overall rating is the most important item on a review page. So we made sure to include the top performing software currently available. With a minimum of 4.5 star rating and enough reviews to indicate that they are not just startup that might go out of business so you can feel comfortable knowing that your referral program will last based on your business and not theirs.
What referral program software should have
Next, we determined the fundamental features a good referral program software have. Here are the key features we made sure were included in each referral software in our list:
Landing page and redirects
Sharing widgets to share links on social media and messaging apps
Referral tracking (codes and unique URLs)
Integrations and APIs to sync with all your other marketing systems (Does it work with your current system?)
Single all-inclusive platform for your referrers (Where can referring customers access information?)
Automated tasks, like reward fulfillment
Fraud detection
Questions to ask while choosing referral software
And lastly, before choosing a referral software, there are few things to take into consideration:
How scalable is the referral program software? How many participants can join before you need to upgrade to another package? Are there any other limitations?
What is the cost of these packages?
Does the referral software provide custom packages based on your business growth?
With this in place, you can now focus on which referral marketing software best caters to your business needs.
Here are the 8 best free referral software services
| Free referral software | Pricing | Free demo or trial | Who's it for? | Capterra/Get App Review |
| --- | --- | --- | --- | --- |
| Referral Rock | $200-$800/month | Free demo and trial available | Ecommerce, B2B, B2C, SaaS, small-to-medium businesses, local businesses, enterprise, organizations | 4.5 |
| GeniusReferral | $49-$499/month | Free demo and trial available | Local services and businesses | 4.5 |
| Link Trust | N/A | Free demo and trial available | B2B | 4.5 |
| ReferralCandy | $49 - $3,999/month | Free demo and trial available | Ecommerce | 4.5 |
| ReferralHero | $49-$199/month | Free demo and trial available | Small-to-medium businesses, large companies | 4.5 |
| Rocket Referrals | $180-$215/month | Free demo and trial available | Ecommerce, local business | 5 |
| Sales Camp | $39-$299/month | Free trial available | Ecommerce, SaaS | 4.5 |
| Viral Loops | $49-$299/month | Free demo and trial available | Ecommerce, B2C, B2B, SaaS, small-to-medium businesses | 4.5 |
---
Referral Rock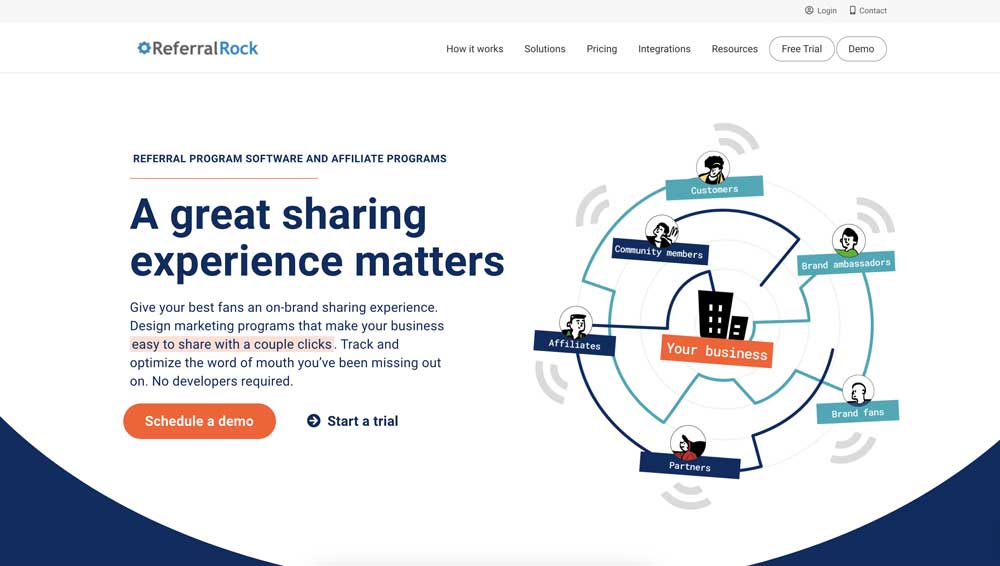 Referral Rock's offer: Your all-in-one referral program software and a complete partner and affiliate marketing platform
Who's it for: Ecommerce, B2B, B2C, SaaS, small-to-medium businesses, local businesses, enterprise, organizations
| | | | |
| --- | --- | --- | --- |
| Pricing | Free demo or trial | Type of services | Review score |
| Starter ($200/month), Growth ($400/month), Established business ($800/month) | Free demo and trial available | Onboarding, DIY, templates | 4.5 |
---
GeniusReferrals

GeniusReferrals' offer: "Referral program software that works as hard as you do"
Who's it for: Local services and businesses
| | | | |
| --- | --- | --- | --- |
| Pricing | Free demo or trial | Type of services | Review score |
| Starter ($49/month), Silver ($129/month), Gold ($249/month), and Platinum ($499/month) | Free demo and trial available | DIY | 4.5 |
---
LinkTrust
LinkTrust's offer: "The most trusted platform in performance marketing"
Who's it for: B2B
| | | | |
| --- | --- | --- | --- |
| Pricing | Free demo or trial | Type of services | Review score |
| N/A | Free demo and trial available | N/A | 4.5 |
---
ReferralCandy

ReferralCandy's offer: "Grow your sales through word-of-mouth marketing"
Who's it for: Ecommerce
| | | | |
| --- | --- | --- | --- |
| Pricing | Free demo or trial | Type of services | Review score |
| Premium ($49/month) and Enterprise ($3,999/month) | Free demo and trial available | DIY, templates | 4.5 |
---
ReferralHero

ReferralHero's offer: "Imagine growing your business 5%-10% a month. Every month."
Who's it for: Small-to-medium businesses, large companies
| | | | |
| --- | --- | --- | --- |
| Pricing | Free demo or trial | Type of services | Review score |
| Basic ($49/month), Pro ($99/month), Premium ($199/month) | Free demo and trial available | DIY | 4.5 |
---
Rocket Referrals

Rocket Referrals' offer: "Client communication made simple."
Who's it for: Ecommerce, local businesses
| | | | |
| --- | --- | --- | --- |
| Pricing | Free demo or trial | Type of services | Review score |
| Pro ($180), Pro + Text ($195), Pro + Premium ($215) | Free demo or trial | Handwritten cards, templates | 5 |
---
Sales Camp

Sales Camp's offer: "Grow your business through word-of-mouth referrals"
Who's it for: Ecommerce, SaaS
| | | | |
| --- | --- | --- | --- |
| Pricing | Free demo or trial | Type of services | Review score |
| Starter ($39/month), Growth ($79/month), Pro ($149/month), Enterprise ($299/month) | Free trial available | DIY | 4.5 |
---
Viral Loops

Viral Loops' offer: "Referral marketing made easy for everyone."
Who's it for: Ecommerce, B2C, B2B, SaaS, small-to-medium businesses
| | | | |
| --- | --- | --- | --- |
| Pricing | Free demo or trial | Services | Review score |
| Start-up ($49/month), Growing ($99/month), and Power ($299/month) | Free demo and trial available | Onboarding, DIY, coaching, templates | 4.5 |