There are a ton of ways to make your life easier. One of them includes using a good scheduling software.
If you're a business that relies on a schedule for your day to day life, then you probably already keep a calendar. What if we told you there were software options out there that can help you automate and organize your schedule for you?
As it turns out there are quite a few great options that are perfect for filling up your calendar and preventing double booking, no-shows, and the need for back and forth email and messaging.
(Or skip straight to the customer scheduling tools below.)
Why use scheduling software?
Keeping track and scheduling meetings can be time-consuming. Not to mention, if you're trying to figure out the perfect time for both parties via email, there can be a lot of back and forth and missed communication. Client scheduling software allows you to book meetings with clients, easily. In fact, client scheduling software allows the customer to choose a time on your calendar. So all you have to do is send a link, they pick a time, and boom the meeting is set.
Here is a look at what scheduling software we are going to talk about. Note that these are not listed in any particular ranking order.
Customer scheduling software
Drift
Client scheduling and customer scheduling


Drift is the new way that businesses buy from businesses. They are the first conversational sales and marketing platform, with 50,000+ businesses using Drift around the world.
Drift is all about eliminating the barriers between you having 1-on-1 conversations with your best customers. Their chatbots, messaging and email tools are all built around this core commitment. And as you can imagine, going back and forth over email about scheduling is an experience that gets in the way of conversations.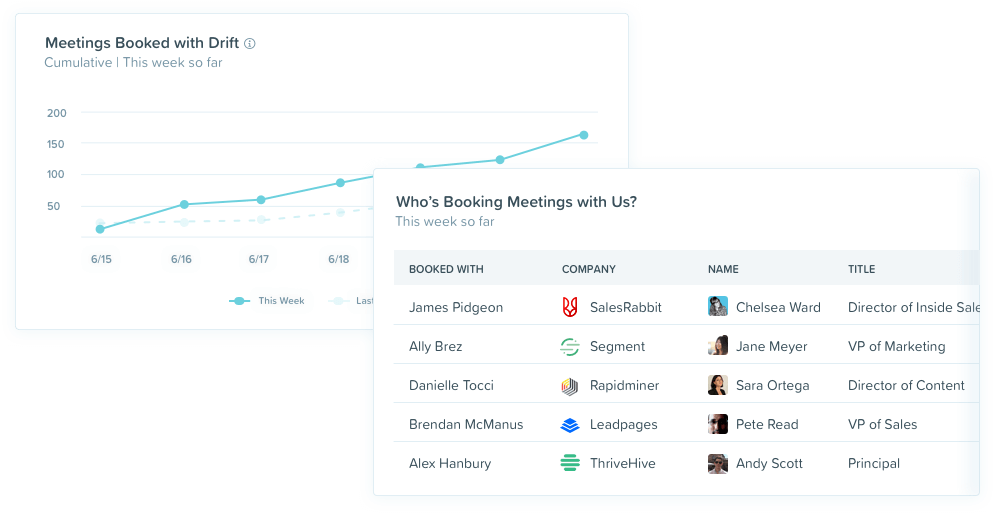 Features
Profile: Share a link to your Drift profile to give people a direct line to your calendar
Chat: Talk to your clients and customers the same way that you would text with a friend using the chat function on your profile page
Chrome extension: Used to track email opens and clicks
Email sequences: Enable a series of pre-defined outreach emails
BCC to CRM: Using the bcc feature automatically sends a copy of your emails into your CRM
Calendar injection: Directly into composed emails or sequences
Automated meeting facilitation: Reminder emails, rescheduling and cancelation options
Advanced meeting reporting: Includes not only how many people you schedule with, but their LinkedIn profiles
More details on the free vs. add-on features at the bottom of their Drift for Sales page
| | | |
| --- | --- | --- |
| Target audience | Pricing | Clients |
| Sales and marketing professionals, from very small businesses all the way up to enterprise teams | Free plan available. Paid plans start at $15/year. (See pricing options.) | Zenefits, Toast, MongoDB, AdRoll, Jebbit, Zuora, Vidyard, Rapid7, Onshape, Cybereason, Price Intelligently, Bandwidth |
---
Calendly
Client scheduling

Calendly helps millions of people schedule meetings without having to deal with back and forth emails. Calendly is a powerful yet simple scheduling tool that helps business professionals save time, control their schedule and delight invitees.
Setup is easy and pain-free, simply provide your availability and preferences and then the software will do the rest for you. Then all you have to do is share your personal link and clients can pick what time from your calendar that works best for them.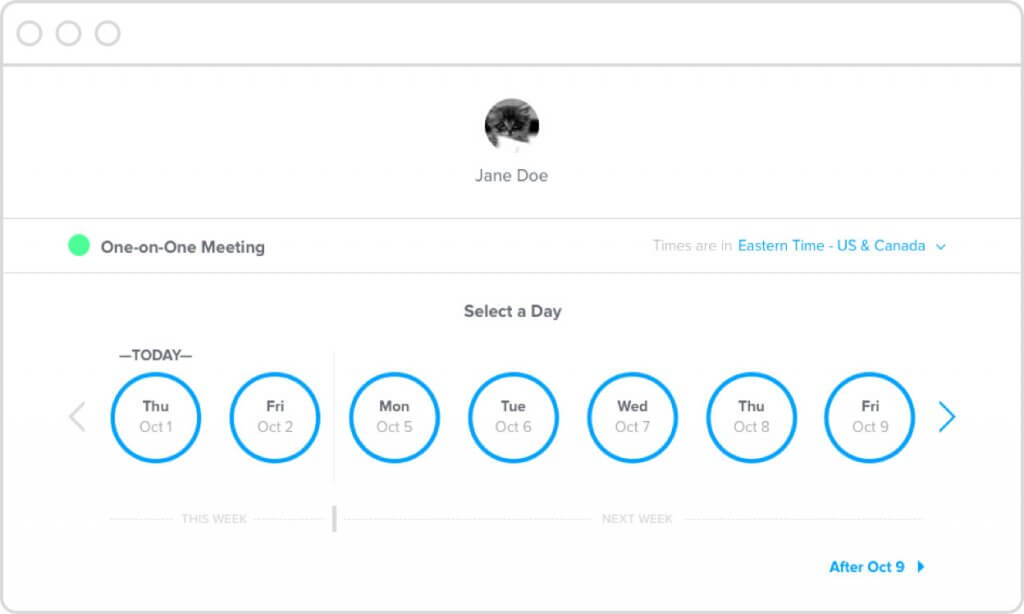 Features
Calendar integrations: Integrate directly with your current calendar for real-time sync of scheduled events
Customize your schedule: Spend more time on top priorities by preventing last-minute meetings and scheduling conflicts through buffer times, daily limits, secret event types and more.
Flexible meeting options: Supports one-on-one, round robin, and collective availability meetings
Time zone intelligent: Timezone detection so everyone's on the same page
| | | |
| --- | --- | --- |
| Target audience | Pricing | Clients |
| People who don't like sending multiple emails to find a meeting time. A lot of customers are in sales, customer success, recruiting, financial advisement, education, and consulting. | Free plan and trial available. Paid plans start at $10/per user/month. (See pricing options.) | Zillow, Marketo, Shopify, Uber, Zendesk |
---
Appointy
Client scheduling

Google partners with Appointy to help you get new customers. It's an all-in-one online scheduling software that is trusted by 110,000+ customers worldwide. Customers can self-schedule 24/7, from anywhere. Manage multiple staff and locations to improve productivity. Social promotion via Twitter, Facebook, and email. Run loyalty programs.
Appointy prides itself on helping a variety of businesses and services. Everything from salons, education, all the way to government offices. They allow flexible business hour settings so businesses can stay in control of their schedule. Businesses can set staff working hours, customize scheduling time-slots, provide back to back booking for multiple services at one time, and allow customers to schedule multiple future appointments (recurring booking).
Appointy provides a comprehensive overview of analytics. Covering everything from customer satisfaction, staff performance, appointments made, and sales totals. Appointy helps reduce no-shows, by sending automated messages to clients at preset times before appointments. They offer pre-payment options so customers can pay full, part, or a fixed amount when scheduling an appointment. There is also an option to promote last minute deals to fill empty time slots.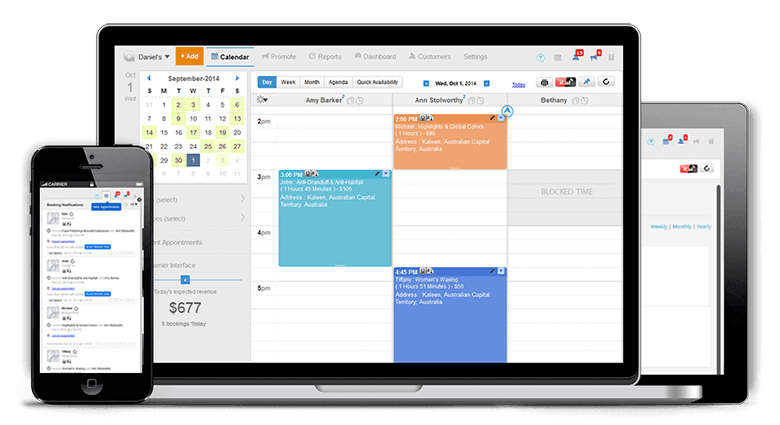 Features
Customization: Appointy allows everything to be customized. Emails. Logos, Forms, Receipts, Social Promotion, etc.
Schedule online: Customers can self-schedule easily online, at any time.
Social promotion: Use Facebook, Twitter, and email marketing to attract customers.
Own your data: Easily export all data, no matter what plan you're on.
Pay as you go: No contracts or cancellation fees.
Flexible time slots: Open intervals from 5 minutes to a whole day, or choose irregular intervals.
| | | |
| --- | --- | --- |
| Target audience | Pricing | Clients |
| Almost every business segment. Some common audiences include salons, health and wellness, education, medicine, government, and more. | Free plan and trial available. Paid plans start at $19.99/month. (See pricing options.) | Texas State Writing Center, Cryofit, Revive, Beauty Room, Butler University |
---
vCita
Client scheduling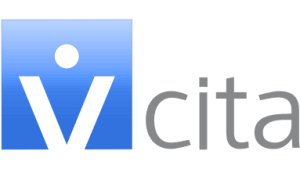 vCita is an all-in-one online scheduling and client management tool. They help small business service providers gain a competitive edge and draw more clients by offering instant online appointment scheduling.
vCita connects to your website, social media, local listings and email marketing, inviting clients to schedule a free consultation, book a service or register for an event.
Clients see your team's real-time availability as well as a list of the services your business offers and choose a time that works for them. Letting clients book your services online 24/7 means that you never miss a new lead, and you're always open for business with returning clients.
vCita is actually much more than an online scheduling solution – it's an all-one business management tool that helps small businesses manage their leads and clients, appointments, payments, invoices and even email marketing – all in one centralized hub.
Whether in the office or on the go, vCita keeps your business competitive and your calendar full.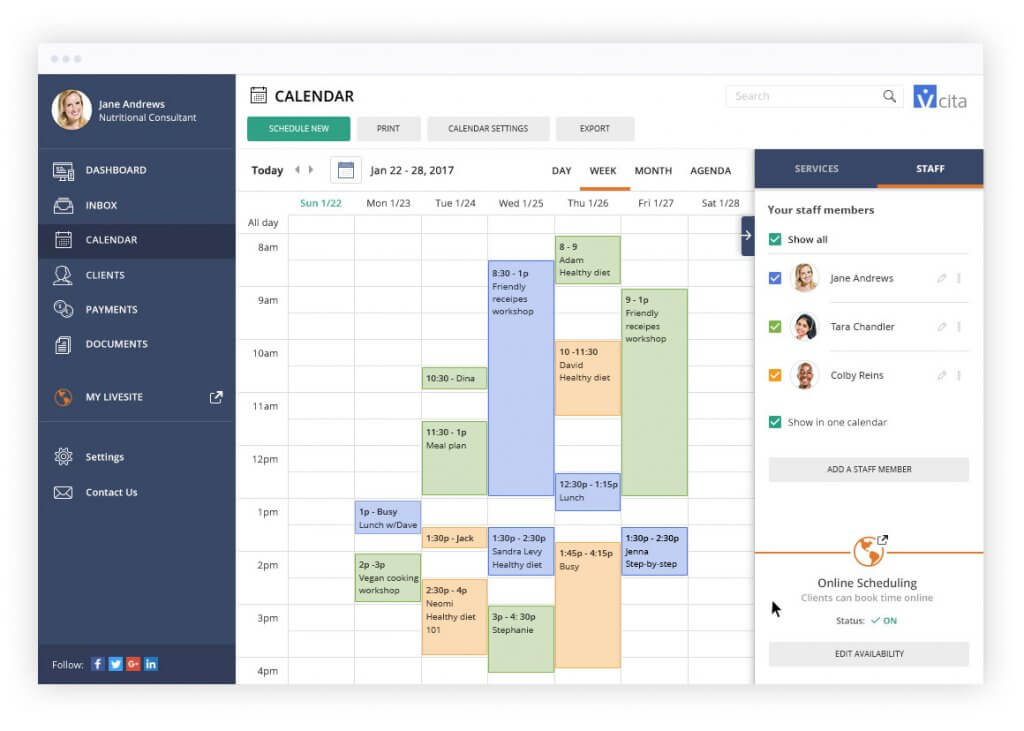 Features
A customizable, mobile-friendly scheduling page: For the business to list the offered services (along with the staff's up-to-date availability) and allow clients to book appointments, schedule services and register for events and classes.
A personal client portal: Clients can view their complete activity history online – previous appointments, pending payments, shared documents etc.
Reminders to reduce no-shows: Automated confirmations, reminders and follow-ups are sent to clients via email and SMS, helping reduce no-shows and minimize last-minute cancellations.
Payments collection: Let clients pay for appointments and services online via credit card or PayPal, create and email invoices, and track your income with a centralized dashboard.
Client management: A built-in CRM allows you to store client information and share it across your team. You can add private notes, add clients tags to group clients together, and view the client's history (appointments, payment, documents, interactions) in one place.
Marketing tools: Get booked by sending announcements and promotions via email campaign and SMS marketing, capture leads on your website with a pop-up widget, fill up your calendar by offering clients discount coupons.
| | | |
| --- | --- | --- |
| Target audience | Pricing | Clients |
| Small service-based businesses, like business and marketing consultants, accountants, lawyers, coaches, fitness trainers, educators, etc. | Free trial available. Paid plans start at $12/month. (See pricing options.) | Pearson College, MassMutual, Texas A&M, Northwestern, Cornell University |
---
ScheduleOnce
Client scheduling

ScheduleOnce is a great solution for powering online scheduling with your customers and prospects. It helps you make more connections with it's easily integrated scheduling platform.
ScheduleOnce is an end-to-end solution for scheduling with prospects and customers through all phases of the customer lifecycle. The software is robust, yet functional and intuitive. And within in three steps your customers can start adding meetings to your calendar.
It connects with all major calendar platforms and provides feature-rich integrations with your CRM, web conferencing, and other online channels.
Features
Multiple event types: ScheduleOnce allows you to accurately model your scheduling scenarios by adding event types to your booking pages.
Pooled availability: Pooled availability is a powerful feature that combines the availability of multiple team members and displays it to customers as a single booking calendar.
Custom themes: You can fully customize the look and feel of your customer scheduling experience.
Website integration: All website integration options are brandless, fully integrating with your website without any mention of ScheduleOnce.
| | | |
| --- | --- | --- |
| Target audience | Pricing | Clients |
| Everyone, regardless of business type or industry | Free trial available. Paid plans start at $5/user/month. (See pricing options.) | Targetprocess, TopHat, Nexonia, Webgility |
---
MyTime
Client scheduling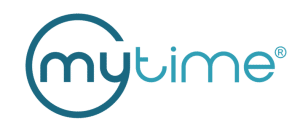 MyTime is an online appointment booking software and scheduler that is built for your business. It's a little bit of everything, an appointment calendar, client manager, and communication center.
Scheduling appointments are made easy. Access and manage your schedule from anywhere at any time. Easily view and manage clients, from 1 place. View their history and notes, and set custom prices for each if you choose. You can even accept payments online or in person.
Communication is easy and effortless. The MyTime Communicator allows you to message clients and answer their questions. The software also helps you reduce no-shows, by sending clients automatic appointment reminders, where they are asked to confirm their appointment.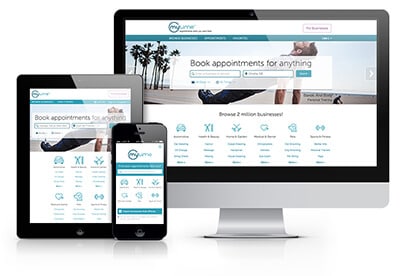 Features
Add online booking to your website: Easy to add, and simple for clients. Customize colors and style to fit your brand and sites.
Track performance: View analytics and see which services are your most popular. Plus connect with Quickbooks, and calculate payroll.
Selling made simple: Sell your products and services easily. Upload and track your inventory.
Easy communication: The MyTime Communicator makes it easy to chat and message clients. Easily send confirmations and reminders as well as prompts to rebook.
| | | |
| --- | --- | --- |
| Target audience | Pricing | Clients |
| Chain businesses and franchises | Paid plans start at $74/month. (See pricing options.) | Small business and local businesses, like dog walkers, chiropractors, waxing salons, and car detailers |
---
Acuity Scheduling
Client scheduling

Acuity is a personal assistant for your schedule