Why is brand reputation important? According to research done by the University of Technology in Sydney (UTS), a business' reputation is one of the considerations that consumers make when buying a product, over and beyond the features a product has. Meaning consumers are willing to pay more when buying products from a brand with a good reputation.
The study further revealed that a company whose reputation is viewed as better than its competition can sell its products/services at a premium of up to 9%.
On top of the price differences, brand reputation also plays a role in building loyalty and trust.
Brand reputation involves how your customers and the overall market, generally feel about the brand, workplace environment, leadership, social responsibility, product quality, company vision, financial performance environmental responsibility, and innovativeness. It's a combination of customer experience during the purchase of goods/services, after-sales services, and even when using the products or services. Therefore, when you sell things online, you need to consider all the stages of the customer journey for your reputation management strategy.
When your brand's reputation is favorable, the customers trust it and feel good about what you have to offer and take pride in buying.
Let's look at more reasons why brand reputation is important:
Builds consumers' trust
In order to see the correlation between customer trust and brand reputation, we may want to think about "brand flops". Do you know of a brand whose marketing went wrong? Or whose reputation was damaged as a result of something that the brand did wrong? Let's think about Uber. In 2017, Uber was surrounded by a number of issues that saw the brand's reputation affected.
NO PICKUPS @ JFK Airport 6 PM to 7 PM today. Drivers stand in solidarity with thousands protesting inhumane & unconstitutional #MuslimBan.

— NY Taxi Workers (@NYTWA) January 28, 2017
That year began with the infamous #DeleteUber on Twitter. This followed a failure to join the taxi protest to pick passengers from Kennedy Airport after the President of the United States had issued a ban against Muslims entering the country. Uber posted that it had turned off the surge pricing function, the feature that sees costs skyrocket during peak hours.
Surge pricing has been turned off at #JFK Airport. This may result in longer wait times. Please be patient.

— Uber NYC (@Uber_NYC) January 29, 2017
This was interpreted as an opportunity to exploit the ban and protest to make more money. Worse still, there were complaints that Uber did not actually delete the accounts when requested.
xoxo pic.twitter.com/cCwN2DH0ef

— Jeremiah St…. NICK?!? (@MiahSaint) January 29, 2017
The result?
Uber had to come up with an ad-hoc system that would allow users to delete accounts. This was something that they had planned to roll out much later, but the high number of requests they were receiving caused them to implement it before schedule. This was just one of the things that Uber faced as a result of customer mistrust.
Contributes to customer loyalty
Customers are highly likely to remain loyal to a brand with a favorable reputation, whether that means:
Ease of access
Excellent customer service
Numerous 5-star reviews
Well-responded to 1-star reviews
Inspirational community outreach activities
How frontline employees treated them
It is easy for customers to track a company's reputation on social media, mainstream media and, even via online reviews. Customers have different perspectives. While others will become loyal as a result of excellent customer service, others will become loyal as a result of a community outreach activity or simply because a company goes out of its way to be environment-conscious.
What this means is that brand reputation is something that companies need to take seriously. Moreover, brands need to make sure that all aspects of brand reputation are taken care of, as you never know which one will appeal to your customers.
How it can affect sales
In 2016, FIFA lost $369 million as a result of corruption accusations (racketeering, money laundering, and wire fraud conspiracy). Moreover, their sponsors expressed their concerns about their brands being associated with FIFA, whose reputation had been tarnished.
VISA actually released a statement where it was specific on the intention to reassess its sponsorship should immediate action not be taken by FIFA. These corruption charges affected even their advertising options, where one newspaper said that FIFA could not advertise unless they first "converted".
These are just a few reasons why brand reputation is important. This means that brands have to ensure that they do all that they can to ensure that their reputation remains favorable, especially in this era of social media and the internet. Enter the concept of brand reputation management, which we will look at next.
Why do you need reputation management?
Online shopping and a brand's online presence greatly contribute to brand reputation. While this has made it easier for consumers to make purchases and purchase decisions, it means that brands need to be careful in order to maintain a favorable reputation.
When brands respond to online reviews, customers and even prospective customers can read or watch what is being said. According to BrightLocal, 89% of potential customers look at how you reply to a review.
Let us look at more brand reputation management stats:
Only 14% of your potential customers never read your brand's online reviews
68% of customers are influenced by positive reviews, and 40% deterred by negative reviews
78% of consumers trust online reviews as long as they show signs of being trustworthy
You need at least three stars for most customers to consider doing business with you
Brands need to include reputation management as part of their marketing strategies. Let's look at more reasons why reputation management is important for your business.
How to maintain a favorable brand reputation
Ease of access to the internet and widespread social media usage has made it easier for brands to build an online reputation. However, these same factors have also made it riskier for brands as something that goes wrong has the potential to go viral, catching even the attention of mainstream media.
What this means is that brand reputation management needs to be prompt and responsive. But not every business keeps up with this, this study by Clutch showed that:
42% of businesses monitor their online reputation on a daily basis.
The most popular reputation monitoring platform is social media, used by 46% of businesses.
Helps boost sales
The same Clutch study showed growth in sales by at least 25% was the biggest achievement that companies experienced as a result of online reputation management (ORM).
Another study by Harvard Business School showed that a one-star increase in a Yelp review results in a 5% to 9% increase in revenue, for restaurants, especially those without chain affiliation.
As you can see, when you have a favorable reputation, your business will stand out among the competition, whether that is through positive online reviews, or ranking higher in search results. This means that you will have higher conversion rates, more business, sales, and profitability.
Determines the kind of candidates that you attract during recruitment
Your brand reputation also determines the kind of candidates that you attract during hiring. If your company has positive online content, like former and current employees have good things to say about your brand, as well as have a high employer rating, you are likely to attract good quality candidates.
In fact, a CareerArc study found that out of 5 candidates, only 1 was willing to apply for a position in a 1-star rated company.
Helps to identify reputation loopholes in advance and prepare for PR crises
In spite of your efforts to ensure that your brand has a good reputation, things may still go wrong. Here's an example from the McDonald's Szechuan sauce, which featured prominently in a popular cartoon series Rick and Morty. The chain decided to sell the sauce on October 7th, 2017, at a discount in specific stores.
Unfortunately, the sauce ran out in most of the stores. This caused such an outrage on social media. Clearly, the chain had underestimated their sauce' s popularity. In a few instances, the customers demanded the sauce in a sort of riot where the police were involved.
McDonald's comeback was when they apologized to their customers. Then they did a "re-release" and promised 20 million packets of Szechuan sauce. They even had a Rick and Morty dedicated scene prior to the release.
Despite the fact that the chain had a well-meant campaign to bring back the sauce, they had underestimated its popularity, leading them to disappoint the customers they were trying to engage.
How do you manage your online reputation?
We have looked at the importance of managing your brand's reputation. How then do you actually go about managing your brand's reputation?
Open social media accounts with your brand name
Brands are advised to only focus on the platforms where their audiences are. When you don't have social media accounts, you create a loophole for your brand. Someone might search through their preferred social media account to see if they can find more information about your business.
For example, if I'm hungry and searching through Google maps for restaurants, I'll typically look at their Instagram account to see what type of food they posted. Generally, websites don't have pictures attached to their menus, or if there are photos on Google maps, I won't know what the name of the food is called. In most cases, posting your menu with names in the description on Instagram helps me decide what to order.
Not having social media accounts that your potential customer uses may hinder someone in the decision making the step and thus can destroy your brand's reputation.
What social platforms should you use then?
What social platforms should you at least target? It depends on your business model, and sometimes, your industry. Facebook, Google+, and Twitter are ideal for B2C. For B2B add LinkedIn to the list. And if you are in the creative niche, Instagram, Flickr, YouTube, Pinterest, and Twitter work well.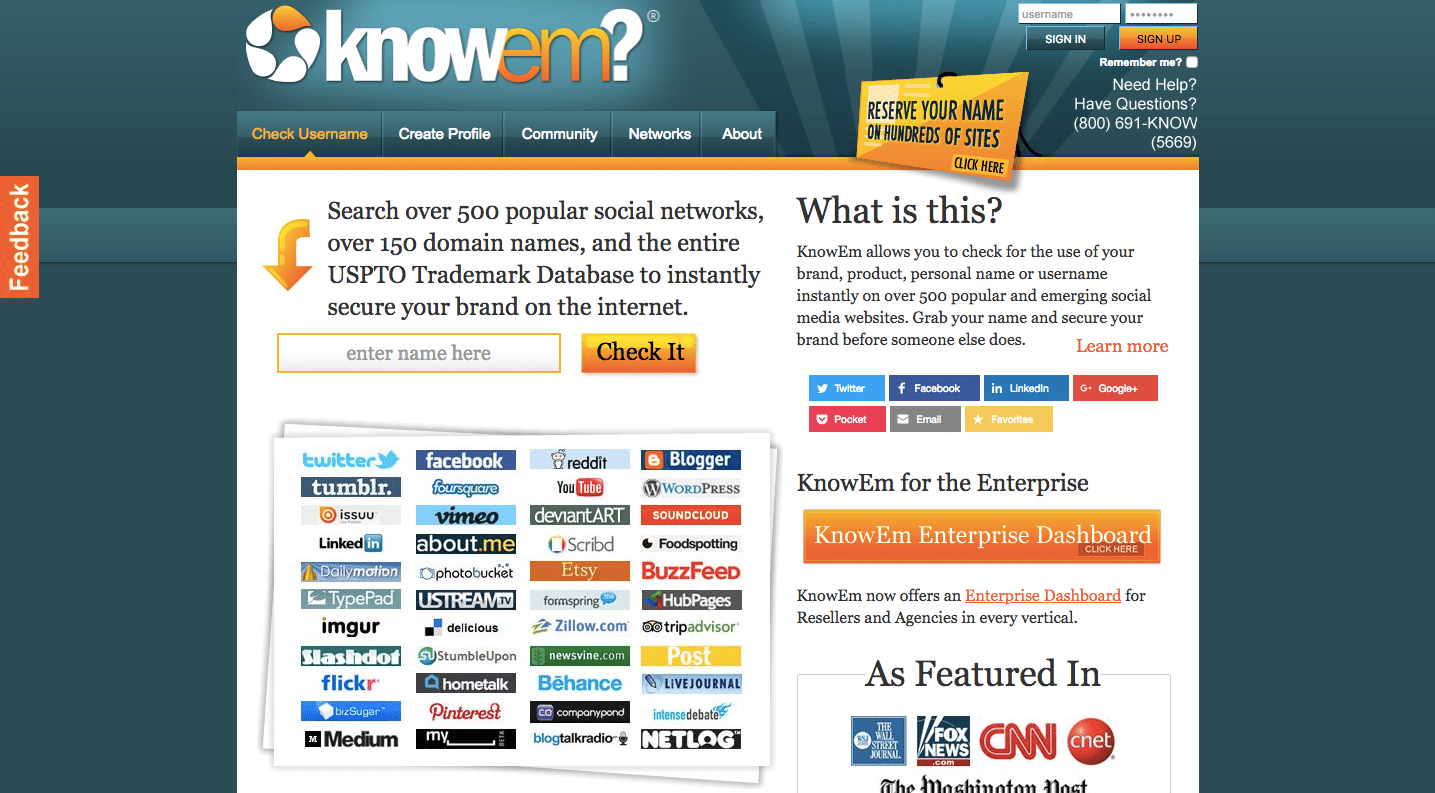 A tool like Knowem comes in handy to check whether your brand name has been used on various social media sites, domains, or trademarks. All you need to do is enter your brand name and click "check it".
This has a ton of other social Media categories that you can check that you might not otherwise think of.  For instance, Blogging (WordPress and Medium), Video (YouTube), and is even industry-specific, for instance, travel or music.
Engage with your customers
This needs to be all across the board – having face to face conversations, prompt responses on social media, participating in discussions forums, and prompt responses to reviews, whether they be positive or negative. When you engage with your customers, you build a rapport with existing ones and establish new relationships.
If a customer posts a negative review, you can respond and offer free service or product if it does not cost you so much as a company. A prompt response is also important. Strive to respond within 24 hours. This engagement will show you're eager to make customers happy.
Tracking your brand mentions
There are tools that can help you monitor and track your brand mentions. Let's look at them below:
This tool has both free and paid versions. The free version has a 14-day trial. The tool gives you instant access to your brand mentions from various platforms – social networks, and influential publishers. You can also segment your mentions into three: positive, neutral, and negative. The mentions can be segmented topically as well. The tool can be used across a team and can measure social mentions against a competitor.
This tool monitors mentions 24/7 across a range of platforms – social, websites, forums, blogs, and languages, as well as countries. The alerts are sent in real-time allowing for fast and prompt responses. The tool has a 14-day trial. Their customer service is excellent. You can even generate reports that will inform your ORM strategy, and find influencers who can help you further build a favorable brand reputation.
This is a free tool. It sends you email alerts every time your brand gets mentioned on specific platforms – Hacker News, Lobsters, and Reddit. You need to sign up for an account and enter your keyword list (which should definitely include your brand name). You can then begin receiving email alerts.
This tool scans your social media posts in order to help you identify older posts that you need to delete so as not to affect your reputation. It also looks at your top 10 results on Google. This gives you an idea about how your brand is doing in terms of search engine results.
Request and manage your reviews
Reviews are a major factor in determining your business' credibility. You need to make it easy for customers to leave reviews if you are confident about your service or product and quality of customer service.
It's easiest if you request happy customers to write reviews. But you can politely and indirectly ask the rest of your customers via email or your website. For more tips on improving your online reviews.
Sometimes, you may need to delete a bad review, especially if the user claims something about your company that is outrightly false, or is aimed at destroying your brand's reputation rather than providing useful feedback. However, tread carefully, since the reviewer may come back and post even worse comments. When this approach is appropriate, you might need to delete the reviews as soon as you see them.
When managing reviews, include your social media reviews and interactions with customers. If there are individual accounts that could influence the brand's reputation, such as, executive board members, executives, management team, and business owners, your own social media account, you need to manage them too. As long as they are associated with your business, you'll want to track how they others might see their social media and brand reputation.
Take care of your SEO
Make sure that your site is easy to navigate, and has content that is informative. Remember, if people spend a short time on your site, Google is able to detect this and it will affect your ranking.
Your social media content needs to be informative and less sales-y. Let customers remember that your pages are unique and informative. This way, they will be looking forward to read/watch/listen to your next post. Over the long term, when it's time to sell, they will remember your brand (top-of-the-mind-awareness).
A blog is one way to ensure that your SEO remains consistent and up to date. It will help you with search rankings and acts as an avenue for rich content creation. It is also a contact point where you can respond to concerns raised by your audiences. The comments after the blog posts are also useful as a reputation management point.
Look out for spammy links
Though comment sections can be beneficial, you also have to be on the lookout. A competitor may want to destroy your brand's reputation by sending spammy and poor quality links to your site. You can use a tool like MonitorBacklinks to help you monitor your website's backlinks. The tool shows all of your site's backlinks, and how valuable each is. You will be able to see the low-quality backlinks and their sources.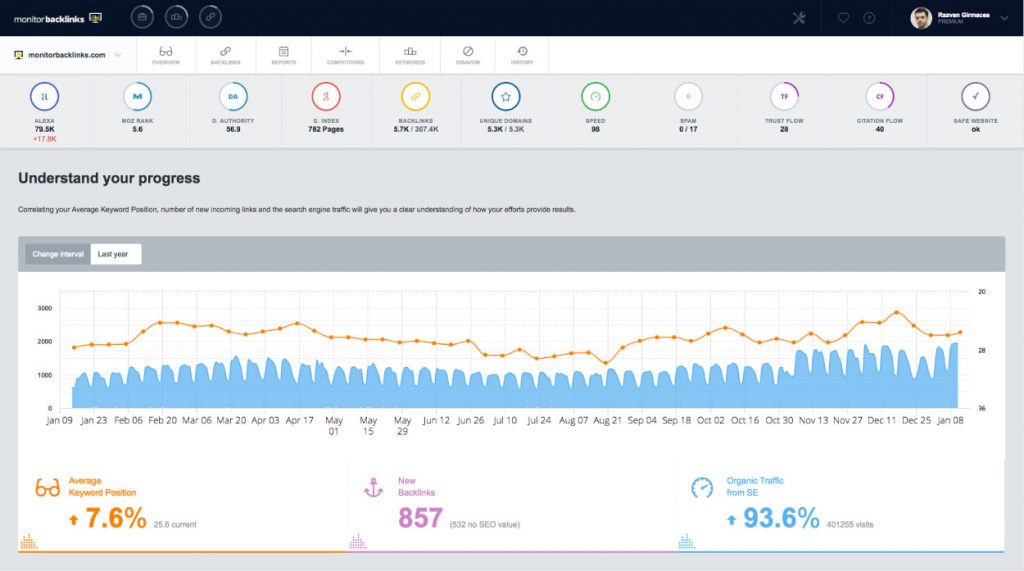 Once you have identified the sources of the spammy backlinks, you could request the webmasters or seo agency to remove them. If they do not, you can use the disavow option, where you ask the search engine bots not to consider all the links when they are crawling your site.
When things get out of hand
This should only be done where there is a serious blow to your brand's reputation. You may even need to hire online analysts who are specialists in tracing attackers via information collection techniques like data cross-indexing.
What does online reputation management involve?
For you to effectively manage your online reputation management (ORM), you first need to know where you are. You can do this via searching for your name on a search engine like Google or Bing if you are a personal brand. Your site should be the first result, ideally, followed by your social media profiles. If this is not the case, it's time to look at your ORM.
You do not want other people's reviews to show on page one of Google's results, even if they are positive. Why? Shouldn't that be a good thing? Well, you do not have 100% control over the reviews that people may give your business. What happens when you get a negative review? It will show up on the first page too. It is advisable to have the aspects of ORM that you can control on the first page.
Monitoring your brand mentions
Social media monitoring is one of the vital aspects of monitoring your brand mentions. There are several reasons why you need to track your brand mentions:
It helps you to respond promptly to questions that potential customers may have. This means more business, as customers do use social media as part of their pre-buying research.
It helps you to respond promptly to complaints and compliments, factors that contribute to brand reputation. You may respond and let the customer know that you have seen their complaint and are looking into it.
It gives honest feedback that can help you improve your product, service or business in general.
Getting to know what and what does not affect your brand reputation
While you may want to respond to every critique on social media and anywhere else, it is important to know that not everything puts your brand's reputation in jeopardy. You need to invest more energy, time and resources into the things that can cause your company's reputation to literally sink and affect the bottom lines.
Let's look at categories that are high priority:
Hate sites: These are not necessarily review sites, but are created sometimes as a result of a frustrated customer or by someone who may be trying to destroy your brand's reputation. They tend to contain false information and even use insults/defamatory language. An easy way to know whether your brand has been affected by hate sites is to key in a search term like "The truth about [your brand]" or [Your Brand] scam.
Negative reviews: You are likely to get negative content from review sites meant to give frustrated consumers an avenue to express their disappointment with your brand. Examples here are RipOff Report and Pissed Consumer.
Negative media coverage: This may contradict the popular statement that there is no bad publicity. However, negative media coverage can negatively impact your brand.
Note that if your brand has been affected by any of these high priority reputation destroyers, don't keep on visiting those sites over and over. If you do, you begin to send signals to search engine bots that the sites are relevant. Worse still, don't tell the whole organization and ask them to visit the site. You may end up hurting your own brand's reputation even more.
Understanding the difference between popularity and accuracy
Popularity does determine your brand's ranking. If one of the measures of popularity is high traffic, it does not necessarily mean that your brand is doing great.
Remember, not all publicity is beneficial. The reason your site could be receiving high traffic could be a result of people coming to read propaganda or something negative about your brand, for instance, a lawsuit.
Search engine bots may not always know what is accurate about your brand. It is your responsibility to ensure that the information that is serving as the "click bait" is accurate, and is not detrimental to your brand's reputation.
It's important to know that you do not always have to respond to each comment. Sometimes the best approach is to not respond at all. In fact, you probably shouldn't even refer to a negative comment in an online forum. Sometimes, responding gives more room for people to further destroy your reputation by adding more negative comments to the mix.
Consistency
Your brand needs to be consistent in terms of the brand colors, logo and messaging. Your logo on all the social media platforms needs to be the same. If possible, maintain the same layout all across the platforms, and ensure that your message is consistent, though it may be delivered in different formats, for instance, images, videos or text. One of the ways to maintain consistency is by using the same image filters or image styles.
Without consistency comes confusion, and that can hurt your brand's reputation.
Building your influence
One of the ways to build your influence as a brand is creating content that showcases your thought leadership. Moreover, it needs to engage your audience. This way your content gets to actually influence buyer's purchase decisions.
You can also work with influencers with a favorable reputation, and that relate to your niche. If you are in the fashion industry, these could be bloggers and vloggers, or even celebrities who could use your product or even become an affiliate. Typically, these types of influencers have a large following. This exposes your brand to larger audiences. Since people already trust them, they are highly likely to trust your brand too.
How to improve reputation management
When it comes to ORM, your goals include being specific about your target audience, the message that you want them to see or hear about your brand, and the image that you want them to have about your brand. "Image" here means one thing that you want your brand to be associated with. It could be a specific product, for instance, cakes. It could also be an image of your brand being the best cake bakers.
Backlink reputation
Identify any low-quality backlinks. Even though this is more SEO focused, you'll want to track what websites you are associated with and how that can affect your brand reputation.
Create a schedule for content creation
Even if we have highlighted content as one of the vital ways in which to build your brand's reputation, it does not mean that you need to churn out content every 5 minutes. This is highly dependent on your niche. If you are in the news niche, then you need to be ahead of the game, know what's trending and post it as soon as possible. If you are in the digital marketing niche, you may want to have content that you create on a specific day. A good example here is Moz's White Board Friday: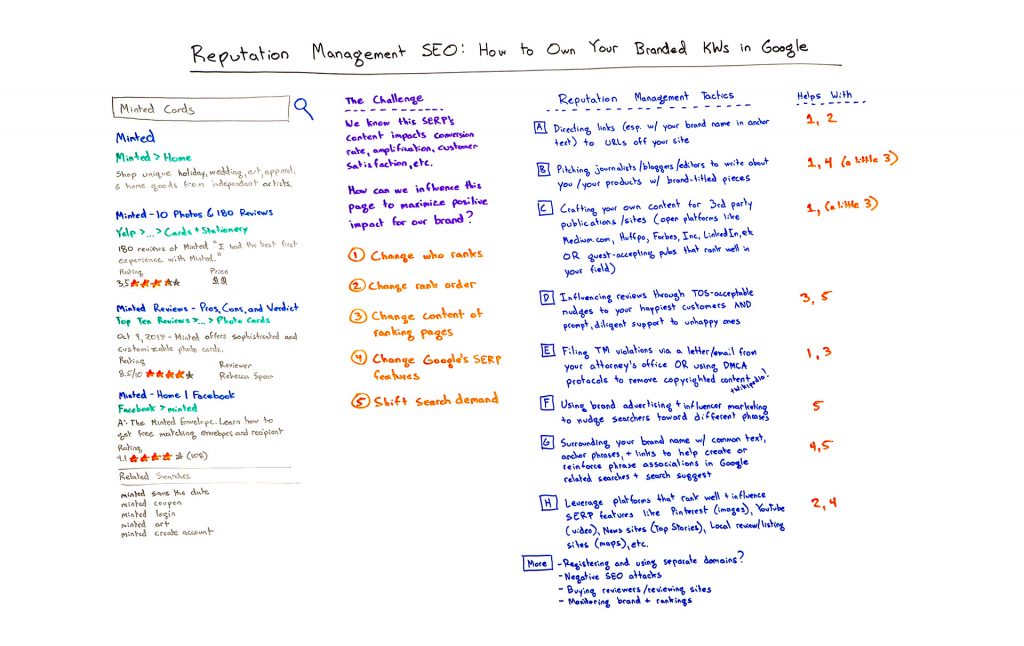 A schedule will also help you achieve consistency in your content creation. This is a good way to create rapport with your audience, as they will always know that they can look forward to your content on a particular day or week.
Fact check
This is closely related to content creation. Ensure that the information that you put out there is accurate and is from a reliable source. The last thing that you want to deal with is your brand being associated with fake news.
Do a cleanup
There are different content types that you may want to get rid off – old social media platforms that were trending a few years ago and are now obsolete or photos that staff members may have posted and may be incriminating. You may need to request the webmasters to allow you access. If personal accounts are not directly related to the brand's reputation, you could request your staff members to make them private where possible.
Automate as much as possible
We have already looked at the tools that you can use to track your brand mentions. Use tools that can possibly give you real-time notifications. This will significantly improve your reaction time. If it's a post that needs to be pulled down, you can do that quickly. If a response is required, you can also achieve this fast. You may want to have a team that is dedicated to ORM if you have the resources to further increase your response times. However, remember that sometimes, silence can be the best way forward.
How to measure reputation management
Measuring reputation management may not be easy, as a lot of perspectives are involved. Do you measure it from an organization's point of view? Customers? Investors? How do you come up with a way to incorporate all these perspectives?
Well, if you are to consider all the above perspectives, you may end up finding out that your brand has different reputations, depending on whom you ask.
How then do you measure reputation management effectively?
An interesting concept would be the Corporate Reputation Quotient. This is a model that was developed by Harris-Fombrun. This model allows brands to incorporate all stakeholders even as they look to measure reputation, and its management. The model takes into account 6 pillars: emotional appeal, financial performance, vision and leadership, social responsibility, workplace environment, and of course products and services.

Let's look at each pillar briefly:
Emotional appeal: This involves trust, admiration, and respect for the company as well as a generally good feeling about the brand
Financial performance: Involves profits, future growth prospects, and performance when measured against the competition.
Vision and leadership: Involves the leadership/management, the vision/goals that they have for the brand, and market opportunities recognition
Social responsibility: Involves environmental responsibility and support for community or social causes
Products and services: Involves quality, innovativeness, and good value.
Once you have looked at the six areas, it is time to think about what your key performance indicators (KPIs) would be, if you had not already identified them at the outset. Your company's goals/objectives could be categorized under vision and leadership for instance.
Once your list of KPIs is ready, it is time to think about the "data collection" stage. Will you look at your online reputation management analysis only? Or would it be helpful to have focus groups representing each of the stakeholders?
If you choose to include focus groups, you may need to prepare questionnaires and scales. You can, for instance, ask the respondents to rate your product quality based on a scale of 1 to 10, with one being the worst. The focus groups could be online, where the respondents fill questionnaires, or even in person, for instance requesting customers at the store to give their feedback (with a staff member not necessarily issuing a questionnaire).
To measure ORM management, you need to do an audit of your online footprint which should look at your ranking in search engine results, page and domain authority, traffic, referrals, backlinks, page popularity, review management (number of positive and negative reviews received, complaint resolution, accurate and inaccurate responses, and received stars), mentions (social media and influencer) general brand sentiment, conversation analysis (most shared conversations), content analysis (most shared content), and keyword analysis.
If your company/brand does not have all the resources/or time to measure reputation management, you may consider hiring reputation experts.
Online reputation management tips
By this time, you have already come across numerous reputation management tips in this article. Here are a few remaining tips:
Regularly check your search results. This could be via literally doing a search engine search of your brand name, products or keywords associated with your brand. You can also use a tool that can do the monitoring for you. Setting up Google alerts will come in handy here. Ensure that you check your search results monthly. If your brand is frequently featured in the media, you may want to monitor your results more frequently.
Create social media profiles that address customer problems, especially if you have a large client base. This way, both your customers and staff know where to go in order to handle complaints.
Keep publishing content. One of the ways Google ranks websites is how relevant the content is. Frequently publishing content will help your brand stay relevant, with fresh content. Google will keep updating its index every time it visits your site, therefore, you have higher chances of a higher ranking.
Apologize and follow up with your promise. Sometimes, if things go wrong, you need to admit that something went wrong and promise to make up to the offended party. Once you make a promise like this, you need to ensure that you fulfill it. It could otherwise make things worse if the offended party points a finger to say that your brand does not live up to its promises.
Constantly build relationships. This way, if something goes wrong, your customers will support you and fight alongside you to reclaim your reputation back. Contribute to debates in social forums, discussion forums on Reddit and Quora, and even Linkedin groups.
Cover the basics. Your website should have meta tags and descriptions, your social profiles complete (bio, and about), image information completely filled and video descriptions complete.
Balance both offline and online reputation management. When having a reputable online reputation is a good achievement, ensure offline efforts have been incorporated too, for instance, events sponsorship, and speaking at conferences. This gives your brand "a face."
In conclusion
Analysis is never-ending, in order to properly manage your online reputation, you need to do a constant analysis. Check for trends across different platforms, your competition, popular platforms among customers, and ad expenditure if any.
Brand reputation management is undoubtedly important to an organization's success. We have looked at why a company needs reputation management, how to manage a brand's reputation, what online reputation management involves, how to improve and measure your brand's reputation management, and tips to help you effectively manage your brand's reputation, both online and offline. It is now your turn to implement the items you think would work best for your company.