Why should your track referrals?
The simple answer is "he said, she said". Whether you use the old methods of tracking a referral manually or the newer ways by using a referral platform, you need to be able to trace back who is referring you.
There are various reasons why you should track referrals. Like figuring out if who you need to reward, and when you need to reward them. But more importantly, building a referral tracking system can help you make better decisions to further increase your referral marketing growth. Here are some other reasons.
Gauge customer satisfaction
Tracking your referral program will help identify a few key analytics to help you see the satisfaction of your customers. If customers are satisfied with your program, you'll likely see a good amount of referral flow. Metrics like Net Promoter Score (NPS), Customer Satisfaction Score (CSAT), Customer effort score (CES) can help you track your customer satisfaction. A satisfied customer is more likely to refer than one who is not satisfied (this is true whether a reward is present or not).
View participation rate
You need to keep track of the participation rate to help you measure the success of your referral program. By looking at participation rates or the number of program sign-ups, you can determine if what you're doing is working. If the rate of participation is low, you can try revamping your current referral marketing approach to up participation rate again.
See the share rate
Reveal the number of advocates sending the referrals. You can analyze the sharing channels preferred by your advocates, such as email, social media, dedicated link, etc. You can then provide more content sharing ideas for your advocates and maximize the ease of use and conversion.
A satisfied customer is likely to refer. Plus, if you offer a reward you'll be able to gauge satisfaction there as well. A customer will refer if the reward is enticing enough.
Keep track of the referral share rate
How many referrals are your advocates generating? You may be able to push this number higher by creating a tier-based reward system. The main difference a referral rate and a share rate is that your member might share their referral code 1000 times with people on social media and only actually receive 1 referral, which would be only .1% referral rate.
Remember a new customer will buy if they are also satisfied with what you are offering.
Track conversion rate
As we mentioned, your member might share many times, but only get one or two referrals. You'll be able to see how many referrals follow through and purchase your product. Based on this number you can determine if there are any changes you need to make in the program or promotion strategy. Many people use this number to determine how successful their program is.
This can also link up to how long it takes the referred customer to purchase a product after clicking on their referral link or code to determine how well your redirect, landing page, and sales funnels are.
Tip: If this number is low, you may want to revamp your reward to the referral or restructure your program to fit their needs better.
Track referrals to help create a referral program model
There can be a variety of ways you push referrals to happen. For example, you may want to create an expiration date for members to promote your business or provide certain discount code and or credit. If this is the case, you need to keep track of all the moving parts that go into your referral program.
Tracking your referral information is probably one of the more difficult and confusing aspects of referral marketing. But, there are a few options whether it be tracking via spreadsheet, forms, or cookies.
Not all referral programs are created equal, and they shouldn't be. You might need a simple solution rather than something more complex based on your business needs. We'll discuss how tracking your referrals work and the most important parts you'll need to understand.
Referral tracking models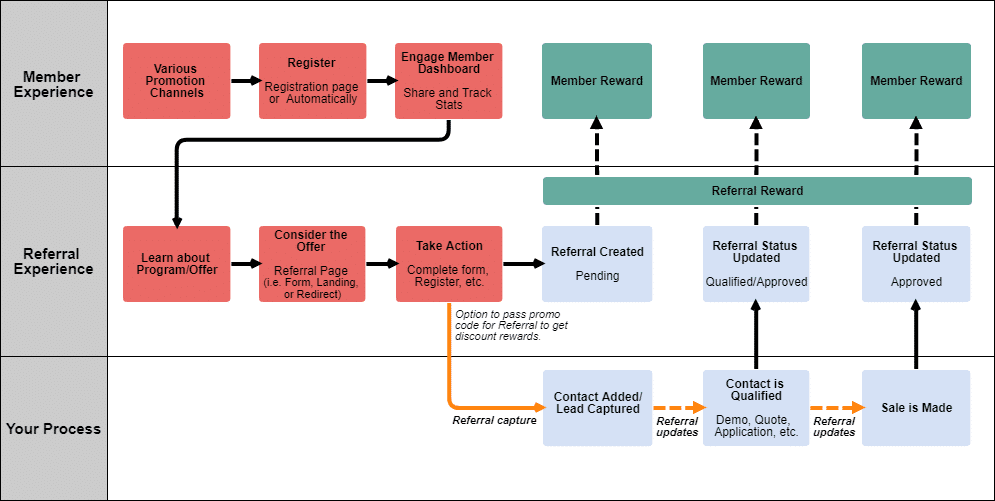 The diagram above shows an example of a referral program and how it works. Why is creating your referral tracking model important? As mentioned before, you'll want to measure every single component. Tracking how A moves to B can help you understand where you are the strongest or the weakest.
Your sales have been blowing up lately and you're thrilled but still unsure about what is causing the spike in sales. You have a feeling it might be the referral program you've set-up but you're not tracking them effectively to find out if you're right.
The other reason why you need to track your referral program is to be able to connect with each experience. From the time the referral has been initiated to associating the referral with the coupon, the date or cookies to help monitor the time of the payout. Let's break this down a bit:promoters
Registering your Promoters
Assigning a referral code for your Promoter
Connecting Referrals with the Promoter
Reward redemption
Each trigger is initiated once the unique tracker (referral tracker) has been tagged as the first A to B interaction.
What is a referral tracker?
Referral trackers (or referral code ) are little bits of code inserted into referral link (URLs) for tracking purposes. It acts as a unique identifier.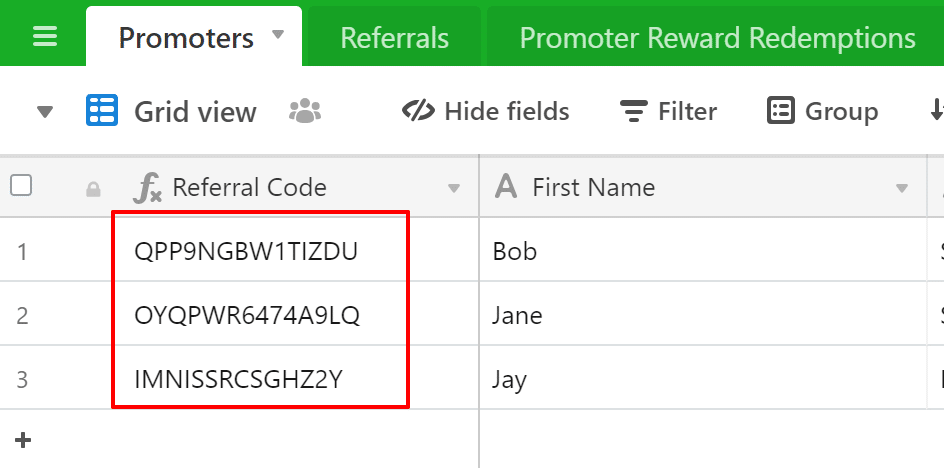 With the example above, the referral code is the unique referral tracker we will be using to identify what Referrals go to whom and when redemptions of rewards are initiated. Whether you use a referral link, code, or physical coupon, each referral tracker can be triggered.
Let's see how it works in three different ways:
1. Manual referral process
If you are using a physical coupon for your brick and mortar store, you can provide business cards or printed materials to Promoters so that they can write their name on them to give it to their Referrals. Or you can even assign a code on the printed material and that code will be associated with the Promoter, and anyone who uses that code will be tied back to the Promoter.
These options would work well if you were handing out referral cards, for example. Here are some popular referral card ideas you can check out.
2. Online referral process
The simplest referral program model would be:
Member of the referral program invites their friend using their unique referral tracker (link or code).
Tracking matches the unique identifier to the correct person in a referral tracking system like Google analytics then gets links them to the referred person.
Once the person who was invited makes a purchase using the link, the member (Promoter) of the program gets a reward.
3. Using a referral program tools
With a referral platform, it gets a bit complex, but the software does all the work
Javascript web pixel tracking is used to set user attributes (uses user browser cookies) on a confirm page
Postback URL: call back to the referral program with conversion's information and URL parameters that is passed to you. Think of it as a medium
API call: calls back to the referral program with the URL parameters that is passed to you to reference the member.
Referral program using our spreadsheet
We actually created a Do-it-yourself Referral Tracking Spreadsheet that you can use if you decided to test out and start your own referral program. Whether you want to do a trial of a referral program for your business, or simply understand the scope of how everything works. We thought it would be fun to make and show you how it's done.
After doing it all manually you may realize how having a system in place makes it easier.
There are three different tabs on our referral program spreadsheet:
Promoters
Referrals
Promoter reward redemption
Promoters
The Promoter tab is where you will be able to find the customers who have joined your referral program. They will be assigned a unique referral code for tracking.

In order for people to register, you can provide the form for them to sign up, or you can have someone on your team register them. All you need to do is Click on Grid View>>Register Promoter. This will open the form that will allow you to add each promoter.

Additionally, you can click on" Open form" along the top of the menu if you'd like to get a form URL to share. This URL could be emailed to potential promoters if want them self-register.

As you now have seen, Airtable will provide a form for you to register your Promoters or provide the link to share with your Promoters to register on their own.
Once you have filled out the form, a "referral code" will be generated automatically for your Promoters for tracking their referrals and rewards.


Obviously, it's not a fancy referral program, but for those who are just looking to explore how to run a referral program, and don't feel the need to use software at this time, you have the option to use this simple spreadsheet to dip your toes a bit.
Referrals
In the Referrals section, you can switch from grid view to Referral Sale to open up the form to add a referral.

The form is similar to the Promoters form. In that, you can open it within the Airtable or with the "Open form" button to open to its own URL.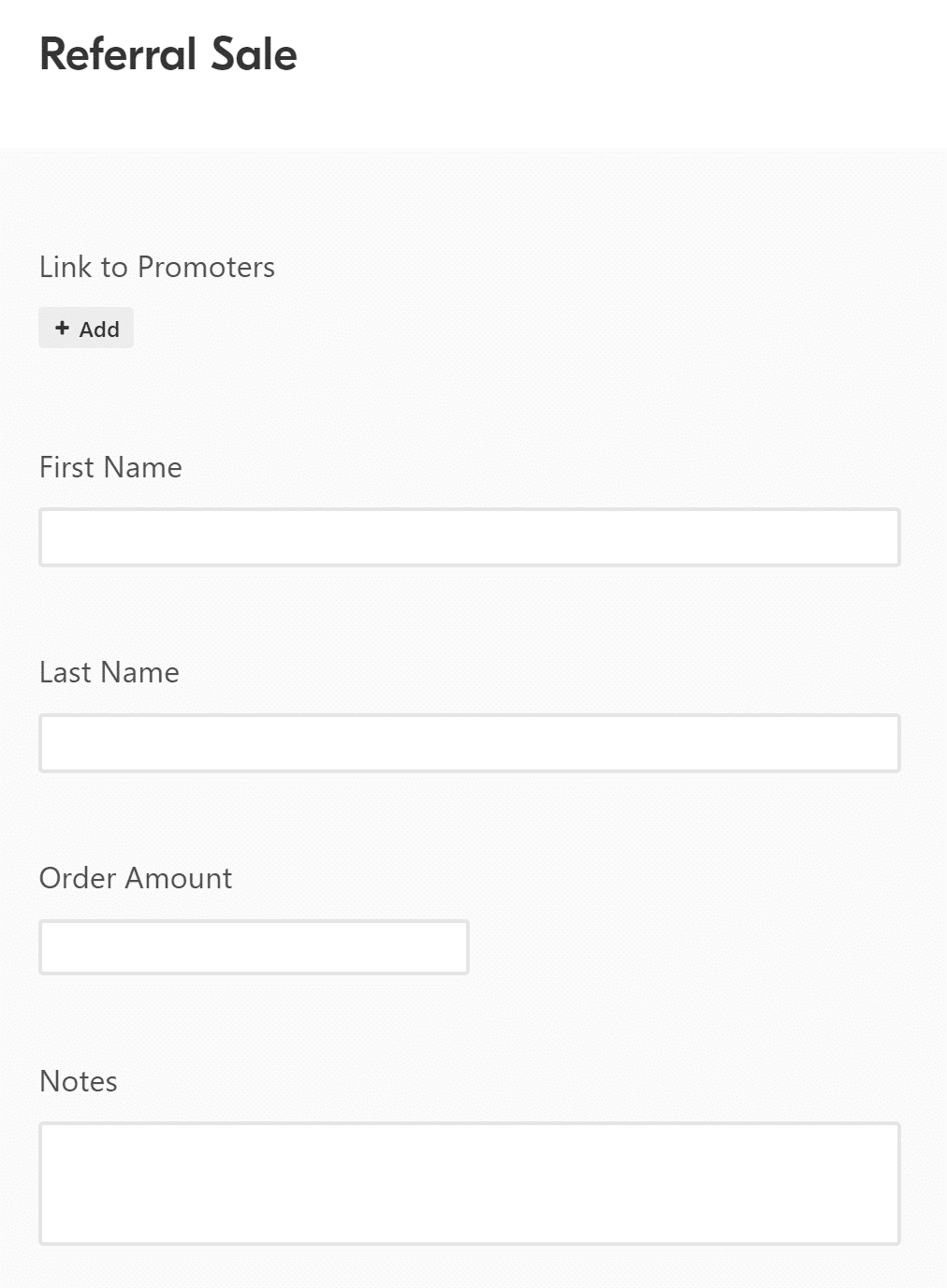 Once the Referral is linked to a Promoter, the Promoter can redeem their reward.

Something to consider: updating Referrals
When the Referral has to take action to earn a reward, you'll have to update the status of the Referral. The typical statuses are Pending>>Qualified>>Approved and Denied. Rewards can be tied to Qualified and Approved statuses, dependent on the program design.
While the spreadsheet can help you keep track of Promoters to Referrals and Promoters to Rewards, you might want to be able to track Referral purchases too so that you can identify when and who purchased something so that credit is given to the Promoter.
Pretty cool right? It doesn't cost you anything to use, but let's take a deeper dive to how tracking your Referrals in a more advanced way can help you do more with your referral program.
Promoter reward redemption
When the Promoter wants to redeem their reward, go to Open Form under the Promoter Reward Redemptions tab. Find the Promoter via the form drop down and the amount the Promoter wants to redeem. Note this can be anything you want to associate with the redemption.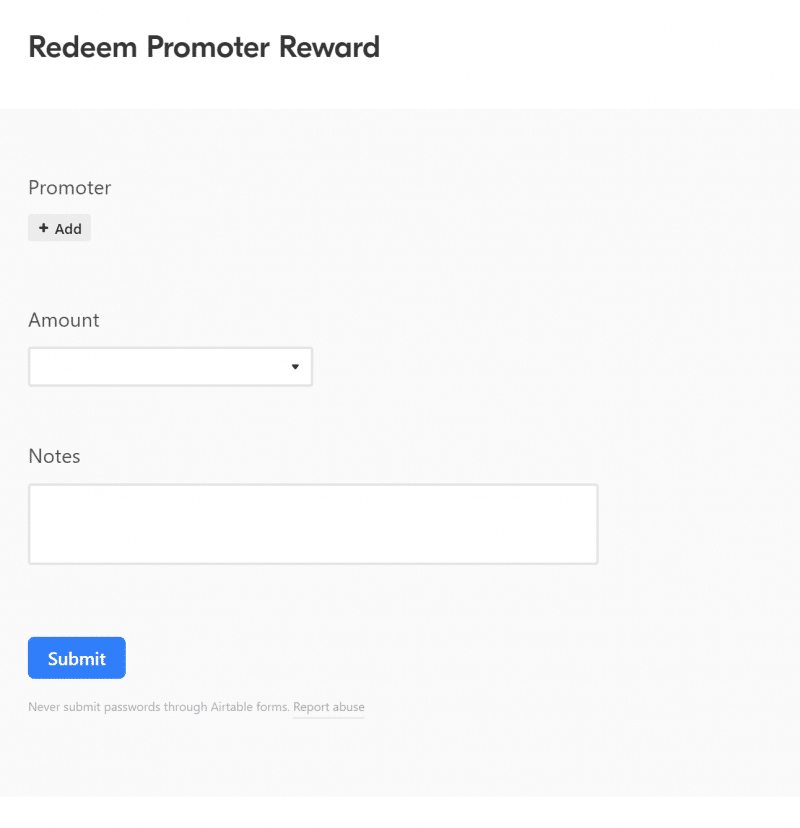 You can add notes to the redemption process form. In this example, we wrote that the Promoter came into the store and redeemed his reward, as seen in the image below.

The referral tracking system also includes the date and the time it was redeemed to help you keep track of when everything happened.
9 best ways to track your referrals
Aside from the Airtable we've created, there are other ways to track referrals. Here are 9 ways you can consider.
1. Spreadsheet
The success of your referral program relies on creating an effective database. Tracking the old fashion way using a spreadsheet might be an option if you decide to manually approve your referral payouts.
It might also be a good option if you want to first test out a referral program before diving in head first, as we mentioned earlier. Or if you're a small business who might not need a complex program.
If you don't want to use our Do-it-yourself Referral Tracking Spreadsheet, you can use a Google Spreadsheet or Excel, you will need to create a unique referral ID for each of your Promoters.

But don't stop there. You can still use a variation of technology to make the program easy to run. Whether you have your employees enter in the information to track referral sales or if your payout is when you collect leads from your influencers, customers, you can use a simple form builder and have it sync with Google Sheets.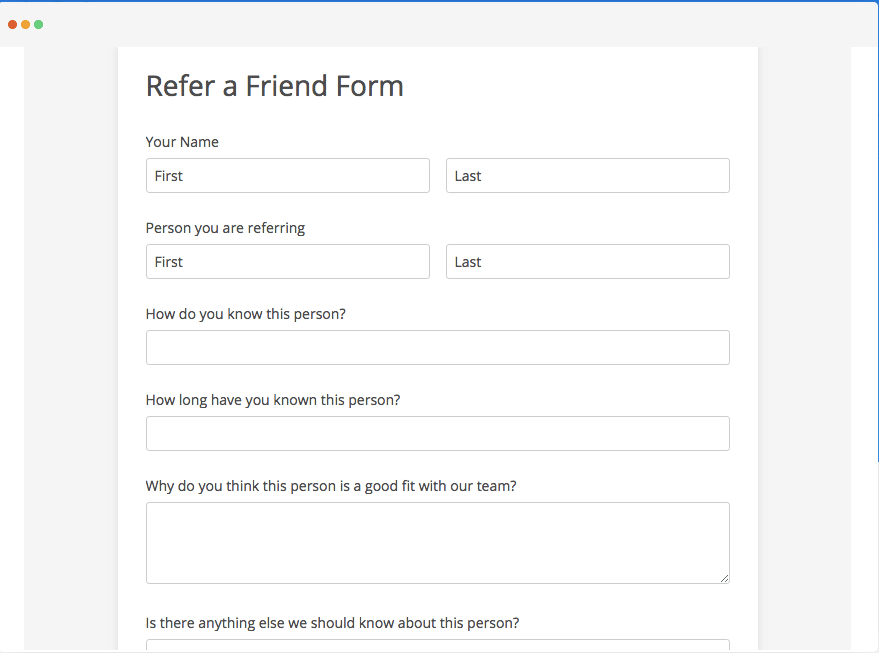 For example, you can use Zapier integration to help make it easy to add, track, and collect data.